Iran hails lifting of sanctions, but US is more cautious
Comments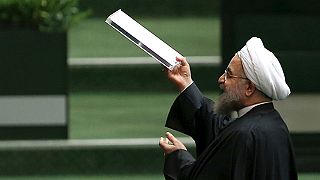 Iran's President Hassan Rouhani has congratulated the nation following the implementation of a landmark nuclear accord and subsequent lifting of sanctions against Tehran.
His US counterpart Barack Obama was more cautious, commenting that the deal was "not intended to solve all US differences with Iran."
Speaking in parliament, Rouhani hailed the agreement as "in fact one of the golden pages of the country's history. During these negotiations, we managed to make the big powers recognise our nuclear rights."
He hit out at Israel and others who have spoken out about the accord.
"Everyone is happy with the agreement," Rouhani added. "Except the Zionists, warmongers, those who provoke division among Muslims and radicals in the US."
Iran insists its nuclear activities only extend to power generation and medical research
Although the International Atomic Energy Agency (IAEA) has signed off on the deal, Israeli Prime Minister Benjamin Netanyahu claims Iran still intends to develop nuclear weapons.
Speaking at a Cabinet meeting, he said:
"The international community must impose severe and clear sanctions against any violation (by Iran). Without our efforts leading the sanctions and preventing Iran's nuclear plan, Iran would have possessed nuclear weapons a long time ago. Israel's policy was and remains as it was: not to allow Iran to obtain nuclear weapons."
Less than 24 hours after the deal was implemented, Washington placed sanctions on eleven companies and individuals for supplying Iran's ballistic missile programme. A US official said the programme would "continue to be subject to international sanctions."