Lyon students in shock after avalanche deaths
Comments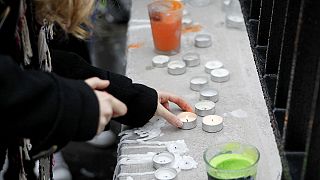 The students from Saint-Exupéry High School in Lyon, France, return the day after, struggling to come to terms with what happened the day before, when two of their own had been killed by an avalanche on the slopes of Les Deux Alpes.
The dead were two teenagers, aged 14 and 16. An adult skier who was not with the group also died. A teacher who led the group is in critical condition.
"We are all really shocked," said a 17-year-old student. "We heard the news in a brutal manner. I think some students will be are more traumatised than others and it'll do them good to talk about it."
A 14 year old added: "We don't really know how this happened. We knew the teacher. He wasn't especially strange. He is not a person who would take decisions like this. Our thoughts are with the victims and the families. It's very sad."
Apart from the two who had been swept away, all the others from the group of 19 have been accounted for and are safe.
The accident happened after a large sheet of snow broke off above the slope after several days of heavy snowfall.
The students paid homage to the victims, leaving flowers and lighting candles.