South Korea appeals to China to rein in North over nuclear tests
Comments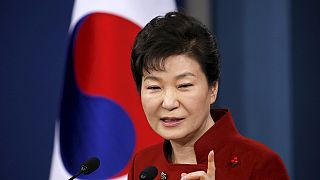 South Korea has appealed to China to use its influence to rein in North Korea, warning of further provocation from its northern neighbour after its latest nuclear test.
Last week's nuclear test was North Korea's fourth, although the United States and experts doubt the North's claim that it was of a more powerful hydrogen bomb, as the blast was roughly the same size as that from an atomic bomb test in 2013.
Seoul has warned Pyongyang that it is working with the US and other allies on tougher sanctions to inflict "bone-numbing pain" on the north.
The US House of Representatives has voted almost unanimously to broaden measures targeting North Korea over its nuclear programme.
Turning to Beijing, South Korea's president Park Geun-hye stressed China's condemnations of North Korea.
"I'm sure that China is well aware that if such a strong will isn't followed by necessary steps, we won't be able to stop the North's fifth and sixth nuclear tests and guarantee peace and stability in the Korean peninsula. I believe the Chinese government won't allow the situation to deteriorate further," she said.
North Korean state media say leader Kim Jong Un has called for his country's nuclear arsenal to be upgraded and expanded.
Western experts have cast doubt on Pyongyang's claims that last week's test was of a more powerful hydrogen bomb.
Some have also said that film showing the purported firing of a submarine-launched ballistic missile appeared to be fake.