Spain: day 1 of Princess Cristina tax fraud trial draws to a close
Comments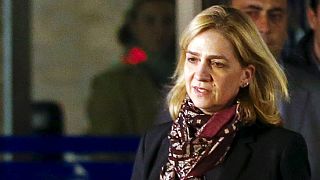 The first day of a historic trial has drawn to a close. Princess Cristina has become the first member of the Spanish royal family to face criminal charges since the monarchy was restored in 1975.
She and her husband, Iñaki Urdangarín, are accused of tax fraud after a long investigation into his business affairs.
Prosecutors allege Urdangarin's Noos Foundation was used to embezzle some six million euros in public funds. Princess Cristina is accused of being an accomplice.
Spain's Princess Cristina, husband on trial in landmark corruption case https://t.co/9hRMXsLWBqpic.twitter.com/gpp1ONEDva

— AFP news agency (@AFP) January 11, 2016
The sister of King Felipe VI and sixth in line to the Spanish throne could face eight years in prison if found guilty.
Prosecutors called for a fine and four years' jail time for the 50-year-old:
"Cristina Federica of Borbon and Greece is charged with a crime against the fiscal system and four years in prison and a fine of one million ninety two euro and sixty two cents, six times the amount of the fraud, the lose of all entitlements of public aid and the right to enjoy fiscal and social security benefits for six years."
The pair joined 16 other defendants at a trial in a court in Majorca.
All deny the charges against them.
Calls for a republic
Protests took place outside the Palma court. When Cristina was questioned about the case in 2014, thousands of anti-monarchy demonstrators staged similar rallies.
Protester Miguel Mascaro said:
"It is clear Spain is ready to move towards a Republican state. It's what the people really want. If today we could have had a referendum, Republicans would win."
A symbol of perceived corruption
Cristina's lawyers will try to get the charges against her dropped.
They say she knew nothing of the alleged embezzlement, citing prosecutors who retained only tax fraud among the charges.
However, the case has become a symbol of perceived corruption among Spain's elite.
The trial will continue on February 9, 2016.