Mexican drug lord 'El Chapo' recaptured
Comments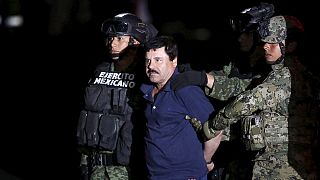 He made headlines around the world when he tunneled out of a maximum security prison through a long tunnel, but now he's been recaptured.
The notorious Mexican drug lord Joaquin Guzman, known as El Chapo, was first arrested in 2014.
He was tracked down to his home state of Sinaloa, where he's the head of a powerful drugs cartel.
Mexican President Pena Nieto emphasised the long work that went into discovering his whereabouts.
"For many months, we carried out very intense and careful intelligence work and criminal investigation that allowed us to identify, detain and break up this criminal's ring of influence and protection."
A photo from the Mexican Marines showed a cache of weapons found inside the house where he was arrested.
Pictures of weapons seized & the home Mexican Marines raided earlier today in the town where El Chapo was arrested. pic.twitter.com/Mge3Jmdb9v

— Gio Benitez (@GioBenitez) January 8, 2016
Guzman faces extradition to the United States, where he's wanted on charges including drugs trafficking and money laundering.