Hollande pays tribute to security forces on Charlie Hebdo anniversary
Comments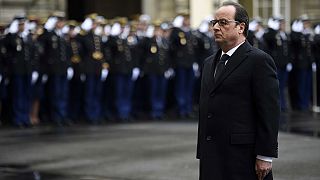 The French President François Hollande has given more details of planned new security measures in a New Year speech at the Paris police headquarters.
It came on the first anniversary of the Charlie Hebdo attacks which led to 17 deaths over three days. The president paid tribute to the police, gendarmes and emergency services, many of whom were present.
"You protect the French people, you also protect their way of life, their freedom. This way of life, that's what the terrorists wanted to attack. Because joy, sharing, culture inspire hatred in them. Never, undoubtedly for decades, has your mission therefore been more necessary," he said.
The planned new measures include increased police powers and potential house arrest for individuals returning from Syria and Iraq considered dangerous. François Hollande said the powers would be subject to judicial control.
Several people have paid tribute outside Charlie Hebdo's former headquarters where twelve people were gunned down, and the satirical magazine's journalists are now remembered, as well as two policemen who were killed during the attack.