Wolinski's last words to wife before dying at Charlie Hebdo
Comments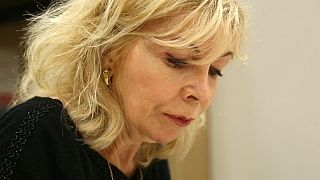 Writer and journalist Maryse Wolinski and Georges Wolinski were together for 47 years until the attack on Charlie Hebdo separated them. His widow has just published a book investigating the circumstances. She has called it 'Cherie, je vais à Charlie'.
She talked about it to our correspondent Valerie Zabriskie.
"The title is the last thing my husband said. The day started out normal, like every day. Well, not that normally, after all. We talked about what we had on for the day. Then we were getting ready and my husband came to tell me—I was wrapped up in a bath towel. And he said, 'Darling, I'm going to Charlie'.
"I went off to a meeting and I turned off my mobile phone during the time it happened, that terrible thing, the tragedy that I was going to be submersed in.
"I was in a taxi when I saw my phone showing a lot of messages asking how Georges was. I didn't understand, naturally. And so I asked the taxi driver a question and he said, 'What was your husband doing?' I told him, 'He was at Charlie Hebdo.' That's when he said, 'Madam, I have to tell you: there has been an attack at Charlie Hebdo.'
"I started shaking. I lost my bearings in the taxi. He brought me home, that kind taxi driver who I'll never forget. He accompanied me to my door with tears in his eyes, and he said, 'I will pray for your husband'.
"There was no use in that, though, since my husband was already dead. He'd taken four bullets, and the first one had hit his aorta, so he died instantly. That was a relief for me, if I can say that, since my concern was that he would have been wounded, and had suffered, and that he'd been frightened. Because something must happen when you're faced with a Kalashnikov. Or perhaps not, I don't know. But anyway, that's what I was afraid of, and so was my daughter, because we knew our Georges very well.
"Throughout the month of December I found him very somber, and I asked myself 'but why is that?' And he talked a lot about him dying. He would say, 'What are you going to do when I'm dead? What's going to happen to you? I haven't protected you enough' — even though he did protect me a lot. But it never occurred to me. I feel a bit guilty about that, actually. It never crossed my mind that there really were so many threats. He never talked about it! If I had known that there were that many threats, I would have told him, 'I don't want you to go!' But well, I didn't know, and I certainly didn't imagine it, I really didn't."