France one year on from Charlie Hebdo shootings
Comments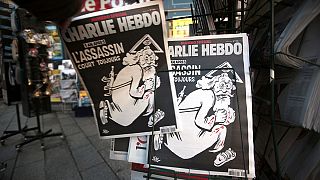 As France prepares to remember the victims of last year's shootings which began at the headquarters of Charlie Hebdo, the satirical newspaper has published its own anniversary edition.
Ever defiant, its controversial cover shows an angry bloodied God, toting a Kalashnikov with the words, "the assassin is still on the run".
One year after attack, #CharlieHebdo publishes provocative special edition https://t.co/AFmzE6w5H9pic.twitter.com/HWL7v0Lrma

— Agence France-Presse (@AFP) January 6, 2016
Readers such as Luc Pertoche remain loyal to the paper.
"We remember what happened a year ago. We shouldn't forget and it's still going on, it happened again in November. We mustn't give up. I buy it every week so it doesn't change anything but I was keen on having this one as a tribute."
The paper was known for lampooning Islam and its drawings of the Prophet Mohammad. One year on and its publishing director Riss says France's secularism has become increasingly under assault.
"Charlie Hebdo has always defended secularism. (And it's true it has become increasingly hard to assert that notion. It keeps being attacked, assaulted, questioned and now it's portrayed as a fundamentalism. Everything has been turned upside down".
Last January Islamist militants opened fire during an editorial meeting of the paper. Twelve people were killed at the offices in Paris including many of the paper's top staff such as editor-in-chief Stephane Charbonnier, known to readers as Charb. A shootout with police followed as the attackers made their escape triggering a massive manhunt and further bloodshed.
It emerged that the gunmen, subsequently named as brothers Said and Cherif Kouachi, were born and radicalised in Paris and known to the French authorities.
The following day a police woman was killed in a separate shootout in Montrouge, a southern suburb of Paris, by a gunman later identified as an ally of the Kouachi brothers.
The Kouachi brothers were eventually located and killed on Januray 9 during a siege at a print works in Dammartin-en-Goele. On the same day, a friend of the brothers, Amedy Coulibaly, took several hostages in a kosher supermarket near Paris, killing four, before a massive police raid released the remaining victims and killed Coulibaly himself.
January 7 2016, commemorative plaques are to be unveiled at key sites where shootings took place and on Saturday (January 10) an oak tree will be planted in the Place de la Republique in a ceremony attended by French President Francois Holland.