Charlie Hebdo warns Islamist threat ever present
Comments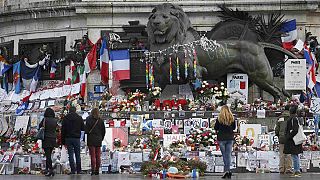 The cover reads, "One year later, the assassin is still at large" and shows a God-like figure in a bloody robe carrying a Kalashnikov.
This is Charlie Hebdo's painful anniversary commemoration issue.
The million-issue edition contains work by those killed in the attack.
France in 2015 became the second-deadliest country in the world for journalists.
Preparing the symbolic review, the French satirical magazine's financial director Eric Portheault said: "We are actually all traumatised, we mustn't hide that. We will never forget. It's something we'll have to live with. It's complicated but we won't give up, because the terrorists mustn't be allowed to win."
The threats had become serious in 2006, when Charlie Hebdo re-ran caricatures of Mohammed first carried in a Danish newspaper, and security was stepped up.
Naming the Prophet its 'editor-in-chief' for a November 2011 'Sharia Hebdo' issue prompted a petrol bomb attack.
Police protection after that proved inadequate on January 7th, 2015, when two jihadists entered the magazine's new building, found the editorial meeting room and opened fire. Among the 11 people killed in the building were many of the top staff. An officer was killed outside.
The murderers were brothers, Said and Cherif Kouachi, born and radicalised in Paris and known to the authorities.
They escaped the capital but when located northeast of Paris, in a signage firm on an industrial estate in Dammartin, after a siege they burst out of hiding guns blazing and were killed by special units.
That same day, an associate of the brothers named Amedy Coulibaly took hostages in a kosher supermarket in eastern Paris, killing four before a police squad moved in and killed him. Coulibaly had also fatally shot a police woman the day before in the suburb of Montrouge.
The victims were mourned around the country and internationally. Place de la Republique in Paris became a focal point.
A giant march was organised on January 11th. World leaders joined arm-in-arm, followed by a crowd of over a million protesters condemning the attacks and defending liberal principles.
The slogan "Je suis Charlie" flashed across the globe.
Yet as the year began, so it ended: with even worse terrorist violence. On November 13th in Paris another 130 lives ended brutally.
As Charlie Hebdo warns, Islamist extremism remains 'at large'.