ISIL claims fatal bomb attacks in Kurdish area of Syria
Comments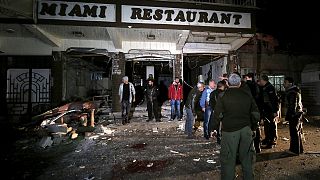 ISIL has claimed responsibility for bomb attacks on three restaurants in a predominately Kurdish area in northeast Syria, close to the Turkish border.

#PT#Qamishilipic.twitter.com/LfLuPUEzHX

— Hassan Ridha (@sayed_ridha) December 31, 2015
As many as 30 people have been killed with scores injured in the city
of Qamishli.
A local church said that 13 of the victims were Christians.
Kurdish fighters backed by US-air power have reclaimed swathes of territory from ISIL in Syria in recent weeks.
In response ISIL has carried out several suicide bomb attacks against Kurds in Qamishili.