Syrian army turns its attention to the south in major offensive
Comments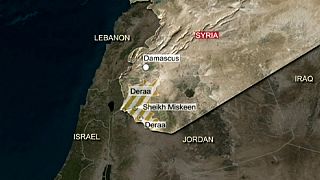 Backed by Russian air support the Syrian army has launched its first offensive in the south of the country since September, when Russia entered the war to support President Bashar al-Assad.
It is focusing on one of the cradles of the Syrian uprising, Deraa, and the nearby mainly rebel-held Sheikh Miskeen.
The army says it will recapture the latter, a key town in Damascus's southern defensive line. The south is the heartland of the original, mainstream anti-Assad opposition, but it has lost territory to both ISIL and the al-Qaeda al-Nusra front.
Fighting for Sheikh Miskeen, on a vital supply route and lost to rebel forces earlier this year, is reportedly fierce. Two loud explosions attributed to car bombs rocked the centre on Wednesday as automatic fire was exchanged in the streets.