Russia: Manhunt underway after deadly gun attack on sightseers
Comments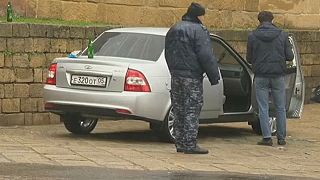 An historic fortress in southern Russia was the scene of a deadly shooting targeting sightseers on Tuesday evening.
Who was behind the bloodshed is unclear.
It happened in the ancient city of Derbent in Dagestan, a mostly-Muslim republic in Russia's troubled North Caucasus region, where Moscow has been fighting Islamist insurgents for years.
The Interfax news agency says the tourists were local residents visiting a viewing platform at the Unesco World Heritage site when shots were fired from a nearby forest.
#UPDATE: One dead, 11 injured in shooting at UNESCO site in Russia's Dagestan https://t.co/krOp4VKWeJ#Derbentpic.twitter.com/HCh7TxupKi

— Agence France-Presse (@AFP) 30 Décembre 2015
The party included two border guards, one of whom died, Interfax reported. At least 11 other people were injured.
A manhunt is now underway for the attackers who fled the scene.
Russia is struggling to quell a simmering Islamist insurgency in the North Caucasus, where some rebels have sworn allegiance to the group calling itself Islamic State.