Frank - the third storm in a week batters UK and Ireland
Comments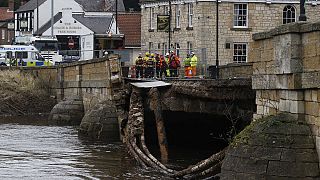 The power of the storms lashing parts of Britain has been caught on amateur videos. In one an 18th century stone bridge in the North Yorkshire town of Tadcaster is seen to be washed away like balsa wood by the force of the swollen river Wharf.
Wednesday brought the third major storm of the month cutting power and forcing many to evacuate flooded streets.
Around 6,700 properties were flooded in northern England as levels reached all time highs. The army have been deployed to help in the clean-up operation. In the historic city of York soldiers delivered vital supplies to the Fosse Barrier – a flood defence system which was overwhelmed by water.
"We need to get cables, we need to get equipment across to the other side. The Foss Barrier is basically on an island, or it has been over the last few days. So without a bridge we can't get cables or equipment across. It's a self sufficient building in normal times. All the equipment, the electricity, all what's needed to be run is there, but we can't get it in from the outside now," explained Mark Fuller an environment agency worker.
It wasn't just England which caught the force of Frank – the name which has been given to the latest storm. Gusts of 130 kilometres battered towns and villages in South East Ireland while rain caused widespread flooding.
Tens of thousands were left without power. The clean up operation has now got underway.
"Total carnage here. You know it's terrible to see a village like this underwater again, you know? Something would have to be done about it realistically, it's terrible to see all these shops here," said one resident of the town of Graiguenamanagh in County Kilkenny.
More than a hundred flood warnings remain in place across the UK. In one incident on Wednesday afternoon 12 people had to be rescued from a bus trapped in rising waters in Scotland.