Burkina Faso has first new leader in nearly three decades
Comments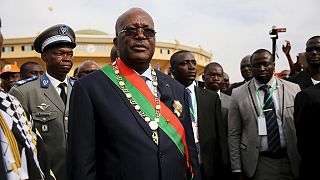 Former prime minister Roch Marc Kabore has been sworn in as Burkina Faso's new president.
He is his country's first new leader in almost 30 years, marking a key moment in the democratic transition from the previous Blaise Campaore regime.
Most of Burkina Faso's previous leaders following independence from France have gained power by force.
The economy has been stagnant since the popular uprising in 2014 made investors take fright, and prices are low for Burkina Faso's main exports, cotton and gold.
An international arrest warrant remains outstanding for Compaore, but his top general is in jail along with many of his loyalist soldiers. General Gilbert Diendere is being charged with plotting the failed September coup, but also the murder of former leader Thomas Sankara in 1987 allegedly on Campaore's orders, although there has been much speculation about the role played by former colonial power France.