USA: White policemen to face no charges over fatal shooting of black boy with toy gun
Comments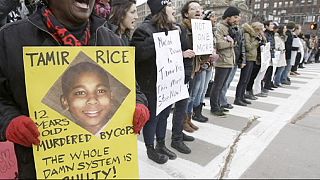 There have been calls for nationwide protests after a US grand jury cleared two white policemen in the fatal shooting of a 12-year-old black boy brandishing a toy gun in a park.
The evidence did not indicate criminal conduct by police
Tamir Rice was shot by Officer Timothy Loehmann in Cleveland, Ohio, seconds after he and a colleague arrived in a squad car, answering an emergency 911 call
"Simply put, given this perfect storm of human error, mistakes and miscommunications by all involved that day, the evidence did not indicate criminal conduct by police," Cuyahoga County Prosecutor Tim McGinty told a news conference.
"The 911 caller said the gunman was probably, quote, probably, a juvenile, and the gun may not be real. Had the officers been aware of these qualifiers, the training officer who was driving might have approached with less urgency."
Authorities say that enhanced security camera video shows Rice was reaching for the gun, which shoots plastic pellets, and that while replicas usually have an orange tip, Rice's toy gun did not.
Prosecutors said these video stills were perhaps the most critical pieces of evidence in the Tamir Rice case https://t.co/1cg554kQ1u

— The New York Times (@nytimes) 29 Décembre 2015
But the boy's family has filed a civil lawsuit over his death in November 2014, amid anger over a number of killings of black citizens by police officers across the United States.
Officer won't face charges in death of Ohio boy, Tamir Rice: https://t.co/Dn6jKlmUAUpic.twitter.com/TjPmzsl6Uj

— ABC7News (@ABC7News) 29 Décembre 2015
They also called for a special prosecutor to handle the case and the US Justice Department to investigate.
"Tamir's family is saddened and disappointed by this outcome – but not surprised," family attorneys said in a statement.
Ohio Senator Sandra Williams described the outcome of the hearing as a 'grave miscarriage of justice'.
My prayers go out to the Rice family that they can find peace and healing despite this grave miscarriage of justice.

— Sen. Sandra Williams (@SenSWilliams) 28 Décembre 2015