Sazonov wins first stage of Africa Eco Race
Comments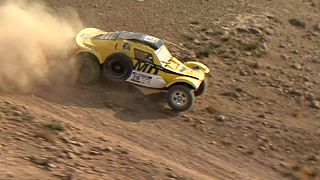 The eighth edition of the Africa Eco Race got underway on Tuesday in Morocco, albeit just the cars and the trucks as the bikes were forced skip the opener due to safety concerns and will begin their adventure on Wednesday.
The day's super special stage was shortened to a fast and furious 47 kilometres.
Thirty two cars left the start line but a few competitors suffered early trouble with the rocky and gravelly terrain, which caused havoc with the tyres and suspension – reigning champion Jean Antoine Sabatier was not spared the misfortune of an early puncture.
The race waited for no driver though – not even Sabatier.
Kazakh Yuriy Sazonov drew first blood in the car category steering his Hummer to the opening stage honours in Jorf El Hamam.
He was followed by compatriot Kanat Shagirov in his Toyota while rounding out the stage one podium was Portuguese contender Ricardo Leal Dos Santos in a Nissan.
The powerful trucks were not far behind on the timesheets.
Sergey Kuprianov led a Russian Kamaz one-two in this category.
Compatriot Anton Shibalov came home second as Hungarian Miklos Kovacs powered his Scania across the line in third.
Stage two – which this time will include the bikes – takes competitors from Jorf El Hamam to Tagounite; a trip of some 403 kilometres, 313 kilometres of which will be a timed special.