Syrian journalist who was critical of ISIL is gunned down in Turkey
Comments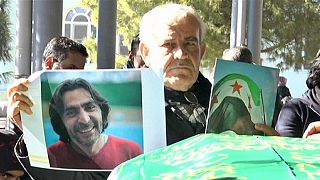 A Syrian filmmaker who had been documenting atrocities committed in Syria has been gunned down in Turkey.
Naji Jerf was part of the Raqqa Is Being Slaughtered Silently campaign which, according to its website, was "launched by a group of non-violent activists in Raqqa."
The group had been critical of both the regime of Syrian President Bashar al-Assad and the group calling itself Islamic State, or ISIL.
Mr Naji has recently completed a documentary about ISIL which had been broadcast on Al-Arabiya television and YouTube.
An unnamed relative said: "Naji Jorf was killed because he was interested in the cause of Syrian people. He was an authentic nationalist.
"He was not looking for the identity of his killers, he was looking for a national identity to make it higher.
"His profession in the information field was very important to him…The worshipers of death such as Daesh [ISIL] and similar, is what killed Naji Al-Jorf."
No group or person has claimed responsibility for the killing.
Naji Jerf was shot the day before he was due to travel to France with his family for asylum protection.
#NajiJerf laid to rest. Murdered by #ISIS because he dared to tell the world about the horrors of IS & #Assad regime pic.twitter.com/qskWXlGhpN

— Anna Ahronheim (@AAhronheim) December 28, 2015