Japan and South Korea reach landmark "comfort women" agreement
Comments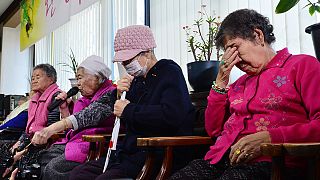 It's long been a thorn in the side of relations between Japan and South Korea, but now they have reached a landmark deal to settle the issue of "comfort women."
The term refers to those forced to work in Japanese brothels during the Second World War.
Tokyo said it feels a "deep responsibility" over the matter and offered its apologies. It will pay 1bn yen — or just over 7.5 million euros — to a South Korean-managed fund for the victims.
Speaking following a Seoul meeting with his South Korean counterpart, Japan's Foreign Minister Fumio Kishida Japanese Foreign Minister said:
"As Prime Minister of Japan, Prime Minister Abe expresses anew his most sincere apologies and remorse to all the women who underwent immeasurable and painful experiences and suffered incurable physical and psychological wounds as comfort women."
Seoul says it will consider the issue "finally and irreversibly" resolved if the Japanese government fully carries out what it has pledged.
Some 200,000 women are believed to have been forced into sex with Japanese soldiers during the early 1940s. Many were Korean.