The uncomfortable truth of Japan's wartime sex slavery
Comments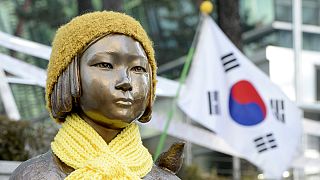 What were comfort women?
The term euphemistically refers to the women who were forced into sexual slavery by the Japanese military from 1932-1945.
How many women were affected?
There is no data on the number of comfort women affected, according to the Asian Women's Fund
, but estimates put the figure between 50,000 and 200,000. They were aged between 15 and 21.
There are also no figures on where the women came from, but author Kim Il Myon estimated around 90 percent were Korean. Women from China, the Philippines and Indonesia were also recruited.
It is thought just 46 victims are still alive in South Korea.
How did comfort women come about?
The first 'comfort station' was established for a Japanese naval brigade stationed in Shanghai in 1932, according to AWF.
They increased in number following the outbreak, in 1937, of war between China and Japan. It is thought there was up to 400 such stations established.
Japan turned to comfort women because its military had already raped Chinese civilian women and they were concerned about an increasing anti-Japanese sentiment, according to a AWF report.
Women were initially 'recruited' from existing private brothels, according to the Centre for Research on Globalization.
But, amid concern over venereal diseases and the expanding war in China, Japan looked elsewhere for women, in some cases kidnapping them from the streets.
What was life like as a comfort woman?
Maria Rosa L. Henson, giving evidence in the 1990s, said: "I was forced to stay at the hospital which they have made as a garrison. I met six women in the garrison after two or three days in the place. The Japanese soldiers were forcing me to have sex with several of their colleagues. Sometimes 12 soldiers would force me to have sex with them and then they would allow me to rest for a while, then about 12 soldiers would have sex with me again."
Kimiko Kaneda, speaking in 1998, said: "How did I feel? I felt as if we were taken here to be killed. I could not but weep. No one talked. All were weeping. That night we slept there and in the morning we were put in those rooms. Soldiers came to my room, but I resisted with all my might. The first soldier wasn't drunk and when he tried to rip my clothes off, I shouted "No!" and he left. The second soldier was drunk. He waved a knife at me and threatened to kill me if I didn't do what he said. But I didn't care if I died, and in the end he stabbed me."
A Taiwanese victim, speaking in 1996, said: "We got up in the morning, washed our faces and cooked breakfast to feed the soldiers. We washed their clothes and mended torn clothes. Then, at night, we were called and confined to a room. …it was a terrible job. I was only weeping. In the daytime I sewed clothes and did the soldiers' laundry. It was easy. But at night I died. I was dying. I felt as if I was dead. I wished to flee away, but I did not know the way. Soldiers were standing at the gates. If you fled, you would be shot."
Hasn't Japan already apologised?
Yes, in 1993, Japan's then chief cabinet secretary Yohei Kono released a statement saying the Japanese army had forced women into working in military-run brothels.
But there were issues over the compensation offered, which came from a private fund, rather than the government.
Some Koreans wanted the Japanese government to admit legal responsibility for the women and for the compensation to come from its coffers.
How does the landmark deal reached on Dec 28, 2015 change things?
Japan has agreed to Korean demands to apologise and contribute, from government funds, one billion yen (7.5 million euros) in compensation.
Tokyo has been frustrated by South Korea repeatedly bringing the issue up in the past. But, as part of this latest deal, Seoul has agreed the matter will be 'finally and irreversibly resolved' if Japan fulfils its promises.
South Korea has also agreed to look at removing a comfort women statue from outside the Japanese embassy in Seoul, a key source of tension between the two countries.