US-backed Arab rebel alliance captures Syrian dam from ISIL
Comments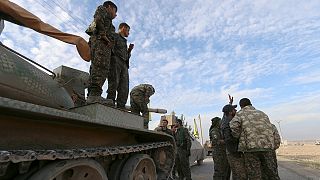 In Syria, the US-backed Kurdish Arab rebel alliance has captured a dam on the River Euphrates from the group calling itself Islamic State, or ISIL.
That is an important development for the alliance because it cuts off ISIL's main supply route across the Euphrates, according to an alliance spokesman.
He said they secured land stretching at least 20 kilometers and seized scores of villages.
The spokesman said he believes the group can be defeated.
The ultimate goal of the alliance is to capture ISIL's Syrian stronghold of Raqqa.
In the meantime, recapturing the Tishrin dam helps cut off ISIL territories in northern Aleppo from Raqqa east of the Euphrates.
Ramadi, Iraq
In Iraq, there have been fresh gains to recapture the remaining areas of Ramadi held by ISIL.
AFP news agency reported Iraqi forces were making a final push in the former government complex on Sunday (December 27), according to officials.
Counter-terrorism forces backed by Iraqi and US-led coalition air strike reportedly outnumbered the few ISIL fighters still holed up in the city.