Iraqi forces retake control of Ramadi from ISIL
Comments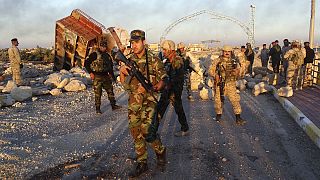 Iraqi forces in Ramadi have taken control of the city's government complex from the group calling itself Islamic State, or ISIL.
Ramadi fell to ISIL in May and Iraqi armed forces first entered the city on Tuesday (December 23).
A military spokesman said on Sunday (December 27) the next step is to clear pockets that could exist here or there in the city.
Counter-terrorism forces backed by Iraqi and US-led coalition air strike reportedly outnumber the few ISIL fighters still holed up in Ramadi.
The victory will allow armed forces to focus their sights on capturing Mosul, Iraq's second-largest city.
In Syria, the US-backed Kurdish Arab rebel alliance has captured a dam on the River Euphrates from ISIL.
That is an important development for the alliance because it cuts off ISIL's main supply route across the Euphrates, according to an alliance spokesman.
He said they secured land stretching at least twenty kilometers and seized scores of villages.
The spokesman said he believes the group can be defeated.
The ultimate goal of the alliance is to capture ISIL's Syrian stronghold of Raqqa.