Spain's king calls for unity after inconclusive elections
Comments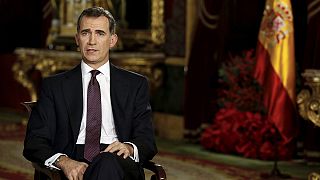 Spain's King Felipe has used his traditional Christmas message to call for unity after the country's inconclusive election last Sunday.
Political parties have conflicted over how to form a viable government and Felipe warned that could have damaging consequences.
"We cannot forget that breaking the law, that imposing the ideas or the project of some on the rest of Spaniards, has in our history only led us to decadence, impoverishment and isolation. It's an error we cannot repeat," he said.
Pro-independence parties in Catalonia struck a deal to form a government on Tuesday, reviving a separatist drive and King Felipe to call for renewed dialogue.
"Spain will initiate a new legislative period that requires every effort, every bit of energy, all the will of our democratic institutions, to ensure and consolidate what we have achieved over the last decades and to adapt our political progress to the reality of Spain's society today," added Felipe.
Sunday's election resulted in a stalemate with Prime Minister Mariano Rajoy's conservative People's Party losing its majority with the opposition Socialists in second.
Both lost ground to newcomers, the liberal Ciudadanos and the left-wing Podemos.
King Felipe also called for economic growth which provides "dignified work and allows inequalities, worsened by the economic crisis to be reduced."