Tihomir Oreskovic nominated as Croatia's prime minister-designate
Comments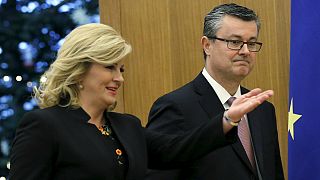 Croatian President Kolinda Grabar-Kitarovic has nominated a prime minister-designate.
Tihomir Oreskovic who is a technocrat was put forward by conservatives and reformists following November's inconclusive election.
"I shall put all my knowledge and efforts to form a high-quality government and I hope that we will begin to solve the accumulated problems. I invite the parliamentary majority and the opposition to support me in those efforts," he said.
Oreskovic who has no political affiliations has 30 days to win the approval for his cabinet in the parliament. The pharmaceutical expert will have by his side two deputies from the conservative HDZ and reformist "Most" parties.
Croatia which was once part of the old socialist federal Yugoslavia is the European Union's newest member state and is under pressure from Brussels.
It wants a stable government to tackle a costly and inefficient public sector and to deal with high public debt which is close to 90 percent of GDP.
One analyst said the the reformist capacity of the new cabinet will depend on that pressure from Brussels.