Russia intensifies strikes against ISIL in Syria
Comments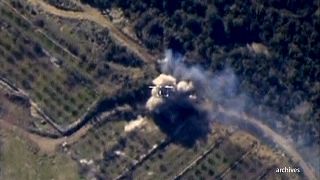 Russia has intensified airstrikes against ISIL targets in Syria as President Vladimir Putin vows to hunt down those responsible for blowing up a Russian airliner over the Sinai peninsula last month, killing 224 people.
After Putin pledge, Russia conducts air strikes on Islamic State stronghold Raqqa in Syria https://t.co/OAgFJNWgzppic.twitter.com/Ji8dbrfrI1

—

NDTV

(@ndtv) November 17, 2015
Russia's assault in ISIL positions on Tuesday also included cruise missiles launched from the Caspian sea.
In line with an agreement on air safety Moscow gave the US notice of the strikes.
Footage has been released purporting to show the bombing of ISIL stronghold Raqqa in northern Syria.
France has appealed to Washington and Moscow to join a grand coalition to fight the islamist group that claimed responsibility for the Paris attacks.
But the US opposes Russia's support for Syrian President Bashar al-Assad and is limiting its communication with Moscow to matters of air safety.