Suicide bomber kills six NATO soldiers in Afghanistan
Comments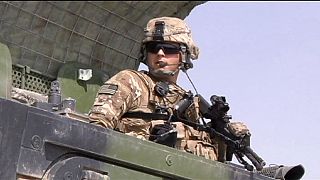 Six NATO soldiers have been killed in a suicide bomb attack in Afghanistan.
It happened near Bagram air base, as they patrolled with Afghan forces.
Three other soldiers and three police officers were also wounded when the attacker, who was on a motorbike, detonated his explosives.
The Taliban has claimed responsibility.
NATO headquarters in Kabul confirmed the deaths and said three other Resolute Support soldiers were wounded, but did not confirm the nationalities of the casualties in accordance with its normal practice.
International troops ended combat operations in Afghanistan last year. Bagram is one of the main bases for the 9,800 troops who remain in the country.
The attack underline the Taliban's ability to hit high-profile targets linked to the US-backed government, which is hoping to reopen the peace process – aimed at ending the 14-year insurgency.
On Monday, Taliban forces in Helmand closed in on the district of Sangin as they tightened their grip on the volatile southern province.