Rajoy claims mandate to start talks on forming new Spanish government
Comments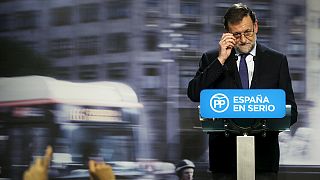 The incumbent conservative prime minister in Spain says he has a mandate to start talks on the formation of a new government after tight elections on Sunday.
Mariano Rajoy told reporters: "The People's Party, I believe, has a responsibility to start a dialogue and explore the viability of a stable government that can offer the necessary certainty inside and outside Spain."
The People's Party won the most votes but not an absolute majority and will find it hard to cobble together a government.
Meritxell Batat, the leader of the Socialist party (PSOE), said: "We will not facilitate the formation of this government and therefore we are going to vote no to the investiture of Mariano Rajoy precisely because we are the alternative to the Popular Party."
A king maker may be needed and that could come in the form of the anti-austerity Podemos party, which came in third place.
However, Podemos has said it won't support the People's Party in its efforts to form a new government.
Euronews' Carlos Marlasca in Madrid reported: "There's much uncertainty in Spain after the elections on Sunday.
"Many want an agreement that leads to the election of a prime minister, but they know it will be difficult.
"Now the parties must try to find an agreement or call for people to return to the ballot box."