Spain decides: 'Together We Can' emerges as big winner in Catalonia
Comments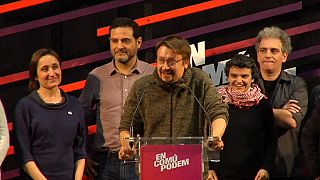 There were cheers in Catalonia as the leftist coalition containing Pablo Iglesias' Podemos party emerged as the region's big election winner.
Together We Can
En Comú Podem, or 'Together We Can' garnered enough support to send 12 MPs to the Spanish parliament.
The coalition defends the idea of a legal referendum on Catalan independence from Spain.
Green Party MEP and coalition politician Ernest Urtasun said:
"The election represents the end of the two-party system and the emergence of a pole lead by Podemos and Pablo Iglesias which is going to change Spanish politics forever."
ERC
The Catalan Republican Left, or ERC came in second in the region, securing nine seats in the national parliament.
It took votes that may otherwise have been won by the Catalan President Artur Mas' Democracy and Freedom Party.
While it didn't come out on top, the pro-separatist ERC achieved its best result in a decade and appeared reassured that Together We Can coalition is calling for a referendum on independence from Spain.
"The right to decide is prevailing over those who don't want change," said ERC MP Josep Maria Terricabras.
Democracy and Freedom
The outcome of Sunday's vote (December 20) wasn't the best for Catalonia's secessionists in general. Democracy and Freedom took a big hit, gaining no more than eight seats in parliament. But there was still hope for the future.
"The outcome provokes a difficult situation in Spain, which will force a change in political habits," said MP Francesc Homs. "Previously there was no culture of negotiations and deals."