Je ne regrette rien: centenary of Edith Piaf's birth celebrated
Comments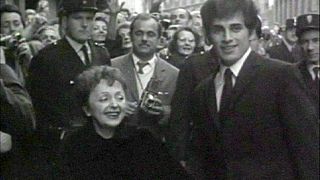 The centenary of the birth of one of France's most famous international stars is being celebrated around the world.
Concerts and exhibitions have been organised about the life of Edith Piaf, who died at the age of 47 from cancer.
The singer rose to global fame with songs such as La Vie en Rose, Non Je Ne Regrette Rien and the Hymn to Love.
But Piaf struggled with drugs and alcohol throughout her life and never got over the death of her baby daughter.
She also suffered the loss of boxer Marcel Cerdan, described as the love of her life, in a plane crash.
Tens of thousands turned out for her funeral in Paris in October 1963.
100 years after her birth – on the 19th of December, 1915, in Paris – Piaf's legacy lives on in music and popular culture.
Today we celebrate Edith Piaf's 100th birthday. Concerts and events: https://t.co/gRUCOoostTpic.twitter.com/CgTuM7ip6X

— Philharmonie Paris (@philharmonie) December 19, 2015
Edith Piaf was born 100 years ago on this day in 1915 https://t.co/4YOWTRTPKKpic.twitter.com/i3cKS0ukMD

—

LIFE

(@LIFE) December 19, 2015
.elaine_paige</a> & more celebrate Edith Piaf&#39;s centennial birthday tonight at <a href="https://twitter.com/TownHallNYC">TownHallNYC.
https://t.co/NKseMXOac7pic.twitter.com/U8DB4l1fKv

— Playbill (@playbill) December 19, 2015
Singer Edith Piaf was born #OnThisDay 100 years ago. Here's a Look Back at Her Life at 100: https://t.co/7ErtZWNFvIpic.twitter.com/HxO94fSZMC

— Biography.com (@Bio) December 19, 2015