Italian reforms minister survives no confidence vote amid conflict of interest claims
Comments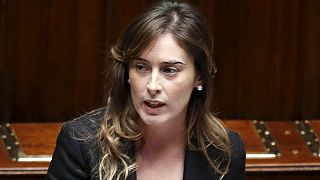 Italy's reforms minister and a close ally of Prime Minister Matteo Renzi has survived a vote of no confidence.
Maria Elena Boschi faced claims of a conflict of interest because her family has links to a bank bailed out by the government last month.
She told parliament: "Tell me if I didn't respect my duties, and in that case I will be the first to leave. But I won't allow you to put in doubt my honesty and my respect of the principles of the law."
The anti-establishment 5-Star Movement presented the motion of no confidence to the lower house of parliament.
The opposition says it will soon put forward another motion of no confidence in the entire government.
Alessandro Di Battista, a 5-Star Movement MP, told Boschi: "You came here and made a nice speech full of sympathy and compassion, telling us about the past of some members of your family.
"But we didn't hear from you, nor from other members of your party, the same feelings towards the thousands of citizens defrauded by the bailout decree."
The government organised the rescue of four banks, including one that Boschi has shares in and whose vice-president was her father.
There is widespread anger that thousands of small investors were forced to suffer heavy losses.