Iraqi army advances on ISIL militants in city of Ramadi, backed up by airstrikes
Comments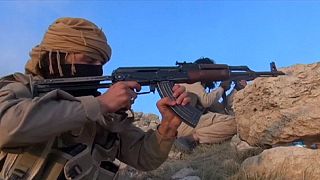 The Iraqi army claims to have retaken parts of the western city of Ramadi, 100 kilometres from Baghdad.
The city, destroyed in many areas, was seized by ISIL militants more than six months ago.
The actual city centre is still reportedly under the control of ISIL.
However, the Iraqi army says up to 300 militants still entrenched there are now suffering food and water shortages.
ISIL has also reportedly suffered heavy losses in terms of lives and equipment.
The advance by the Iraqi army was backed up with airstrikes by the US-led coalition.
Soldiers have has also seized documents from areas administered by ISIL. They are now being examined for any information about the funding and strategies of the group.
Meanwhile, ISIL has released footage of its militants attacking Kurdish positions close to Mosul, a city the militant group seized in June last year.