Spain's sweet economy: alive, well and living in Alicante
Comments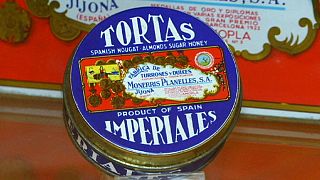 The Spanish traditional Christmas sweet known as turron is 'bread and butter' to some 2,000 of the townspeople of Jijona, on Spain's Mediterranean coast.
We're starting to recover, sales-wise.
Around 20 family businesses have earned their living from the almond and honey confectionary for 100 years. Evolving with globalisation, they have diversified, to cater for the other seasons—even though some of the sweetest names are still closely linked to the Spanish winter.
Our correspondent Vicenç Batalla, visiting Jijona, said: "In spite of the last few years of economic crisis hitting Spain, consumable products such as turron have enabled traditional small and medium-sized companies to survive by exporting more. In Jijona, in Alicante, this is the time of year when production is highest for the typical Christmas dessert. We'll see how they've adapted."
Turron originated with the Islamic occupation of the Iberian peninsula that ended five centuries ago. Only one turron maker is still operating on Jijona's main street: Primitivo Rovira and sons, established in 1850. Traditionally, the Alicante recipe leaves the almonds whole or in pieces. In the Jijona version, the nuts are ground up to produce the soft nougat texture with honey and sugar. The hardening time can last for one to five days. This family firm sells mostly in Spain.
The owner Primitivo Rovira said: "We're starting to recover, sales-wise. We're roughly four percent up from last year in spite of raw materials going up. We were around 11 percent down because of the rising cost of almonds."
The Rovira family make turron from October to December and the rest of the year run two ice cream businesses in Pamplona, in the north of Spain. That alternating also suits others.
Turron master Juan Albertos said: "I'm in both turron and ice cream, and we're feeling the economic crisis quite a lot. Business has not been too good for the last three years."
The Alicante turron regulatory council defends the region's quality or appellation brand, from a new building on the outskirts of town, as well as serving chocolate makers. Those companies developed out of the sharp difficulties of around five years ago.
Council secretary Federico Moncunill explained: "What followed were annual improvements on the order of 2-6 percent. It means the turron market is stable. For chocolate, on the other hand, the market has grown not just here but in the whole of Europe. This means that in Alicante we produce 25 million kilos of chocolate per year and 15 million kilos of turron. So, chocolate production is outpacing turron, since that market is more developed."
One of the biggest companies around here, Almendra y Miel (almond and honey) started in 1725. Now called Confectionary Holding, it employs more than 350 workers and exports one quarter of its product.
The CEO Andrés Cortijos said: "Our traditional typical markets are the European Union, the USA and Latin America, for different reasons. In the EU, it's because they're close. In the US, it's an upmarket product, seen also as a gourmet product, with a high success rate in Hispanic parts of the country."
The big companies produce till November then distribute in time for the festive period. Confectionary Holding also grows almonds in Morocco and Chile. The market price has risen by more than 20 percent.
Moncunill said: "The rise in price comes from exporting to the emerging economies now. The Americans call it "embarcations", such as to China and India. It used to be Russia too, but not any more. It pushes prices up. What's happening in the Spanish market is a reflection of what's happening in the US; prices here are going up, too."
Alicante also relies on tourism for income, and suffered from the property bubble. Unemployment remains around 23 percent, and so viable turron and chocolate production underpins economic stability. This region's success has long been fuelled by its exports.