Dutch riot over plans for a refugee centre
Comments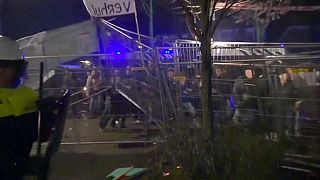 A meeting to decide whether to build a refugee centre ended in a riot in the Dutch town of Geldermalsen near Utrecht on Wednesday night. Around 2,000 people surrounded the venue where the town council was discussing whether to build facilities to house 1500 asylum seekers.
Eventually councilors were evacuated when youths forced their way into the building after outside tearing down fences and throwing beer bottles at police. According to social media several arrests were made but there were no reported injuries.
It's the biggest display of anti-migrant sentiment in the Netherlands since hooligans attacked a Syrian refugee centre in October. European countries are struggling to cope with the largest movement of migrants since World War Two, many of them Syrians who have come via Turkey, Greece and the Balkans.
The country's deputy Justice Minister who oversees immigration called the incident "un-Dutch".
Riot erupts in small Dutch town over plans to open a refugee centre: Dutch police have fired warning shots … https://t.co/zGhoYn5×5b

— China News Links (@dlchinanews) December 17, 2015