Lithuania welcomes its first refugees under EU relocation plan
Comments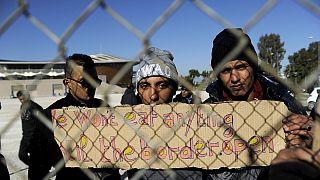 Lithuania has received its first asylum-seekers under a European Union plan to relocate some of the hundreds of thousands of refugees who have reached Europe.
Jaser al Ani and his wife Hansi and their two children fled their home in Iraq because they said they have been living under threats due to the Sunni Shia conflict.
The European Union has agreed on sharing 160,000 refugees who have made it to Greece and Italy.
Lithuania says it will take over 1,000 refugees from the Middle east.
The first refugees have arrived in #Lithuania from #Iraq -> https://t.co/F5DK3rYs20pic.twitter.com/hjsq7Akm2x

— The Baltic Times (@thebaltictimes) December 15, 2015