Spanish PM Rajoy attacked during bitter TV debate
Comments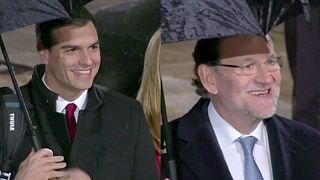 Spain's prime minister Mariano Rajoy has come under attack over corruption allegations in a live televised debate before Sunday's general election.
Opposition Socialist leader Pedro Sanchez said Rajoy should have quit two years ago over a probe into his ruling party's former treasurer and a slush fund which allegedly involved Rajoy.
"You should have resigned, assumed responsibility personally and left the premiership, Mr. Rajoy," said Sanchez. "On December 20, Spaniards will have to choose freely through their votes who will be the next prime minister. But I warn you that if you continue as prime minister, the cost to our democracy and the institution you want to represent is enormous because the prime minister must be a decent person, Mr. Rajoy, and you aren't."
Rajoy responded by saying he's a clean politician, and suggested to Sanchez should sue him if he has something against him. Rajoy appeared uncomfortable and struggled to get a word in during the bitter, argumentative exchange.
Both the People's Party and Socialists have long dominated Spanish politics but face a threat from new parties like the left-wing, anti-austerity Podemos, and the centrist newcomer Cuidadanos party that is looking to capitalise on Spaniards' disillusionment after a crushing economic crisis.
The debate organisers have been criticised for excluding Spain's two emerging parties.
Residents of Madrid said they were disappointed with the debate, with one calling the two leaders a "disaster."
"I think Rajoy and Sanchez did everything possible to make people realise what a disaster the leaders of this country are. They made people think the solution can be elsewhere, in Podemos or in Ciudadanos or somewhere else. But what I saw last night made me realise that trusting them will be really difficult."
Polls show Rajoy will get the most votes but will fall short of a majority.