Spanish election debate descends into row ahead of Sunday's poll
Comments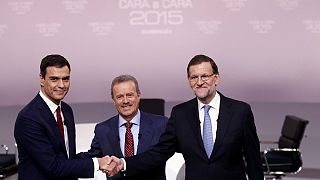 Spain's prime minister has come under attack over corruption allegations in a live televised debate before Sunday's general election.
Mariano Rajoy appeared uncomfortable in the exchange with opposition Socialist leader Pedro Sanchez which began with a tussle over the government's record on the economy.
Rajoy started by asking: "Who talks nowadays about a Spanish bailout, about Spanish bankruptcy, about the Spanish risk premium? Nobody. But you know what's important? When I arrived in government, 1500 Spaniards were losing their jobs every day, and now 1400 Spaniards are finding a job every day."
Sanchez responded with: "I have spoken with mothers who are outraged because their sons and daughters are earning 300 euros per month for 10/12 hours of work every day, as consequence of your Labour market reforms. The Spain that you're building is clear. Parents see how their children are taking their passports and are migrating ; if they stay they are unemployed or exploited."
The debate became acrimonious when Sanchez told Rajoy he should have resigned two years ago over a probe into the ruling People's Party's former treasurer and a slush fund which allegedly involved Rajoy.- it's something the prime minister has denied.
"A prime minister must be a decent person," said Sanchez, "and you're not".
The prime minister had clearly had enough, describing Sanchez's comments as "contemptible, mean and despicable".
At the moment opinion polls show that Rajoy's PP will win on Sunday but is expected to fall well short of the absolute majority it currently enjoys in parliament.