New parties forecast to make gains in next week's Spanish election
Comments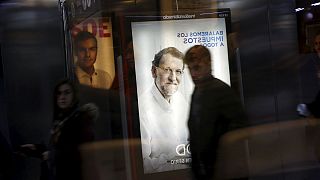 With just a week to go before Spain holds a general election and the country's main leaders held rallies to try and attract the 41 percent of voters who are still undecided.
Prime Minister Mariano Rajoy and his centre-right People's Party (PP) is expected to win but with far less backing than was garnered four years ago as Spain's decades-old two party system appears to have become a four-way race.
While the majority of seats in the lower house parliament are likely to be divided between Rajoy and his old adversaries the socialists, (PSOE)lead by Pedro Sánchez, there are other political forces in play. They're appealing to voters fed up with perceived establishment corruption and double-digit unemployment.
Two parties born out of insurgent politics are making an impact and like the socialists they have youthful leaders new to general election campaigning.
Ciudadanos which is a centrist, market friendly party lead by Albert Rivera, has seen its polling numbers soar. It's forecast to do well in regions that were previously PP bastions, such as Madrid and Valencia, according to an opinion poll in El Mundo.
While the left wing anti-austerity party Podemos under Pablo Iglesias which should also garner strong support in Madrid knocking the socialists into forth place, has accused Rajoy of being "trapped in the pas".
As the election approaches the newcomers could make major inroads on mainstream support with either of them taking the roll of king maker.