Argentine bus crash kills at least 42
Comments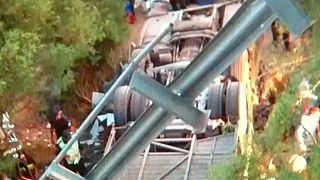 A fatal crash in Argentina has left at least 42 dead when a bus careered over a cliff and into a ravine.
It happened in the northern province of Salta which borders Bolivia, Chile and Paraguay. The bus was carrying Argentine border police officers. Nine people were rescued and taken to hospital.
The new president Maurico Macri says the country's highways need improved.
"It is a most unfortunate thing to happen. All of us in the country should be sending our condolences to these families. It is because of things like this that mean we have to improve our highways so these things don't keep happening," he said.
The vehicle was part of a convoy of three and fell about 18 metres. Border security has become a hot topic in Argentina as the country has emerged as part of a route used for smuggling Andean cocaine to Europe and for human traffickers sending Syrian refugees to the Western Hemisphere.