Syrian men arrested after traces of explosives found in car, says Geneva prosecutor
Comments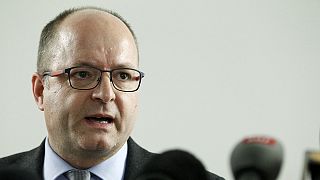 It has been revealed that two Syrian men, arrested in Geneva on Friday, were detained after traces of explosives were found in their car.
They are suspected of violating laws on making and transporting explosives – as well as a ban on links to militant groups such as al-Qaida and the self-proclaimed Islamic State.
"These people, because of their behaviour and their nationality, were subjected to increased checks and these checks revealed a trace of explosives in the car they were driving," Olivier Jornot, Geneva's Chief Prosecutor, told reporters.
"We've already had some cases like this one and there'll be more in the coming days, because the police receive lots of information."
Geneva upped its alert level after a suspicious Belgian-registered vehicle fled from a police check and crossed the border into France.
A Swiss newspaper reported that one of the occupants was a friend of Salah Abdeslam, the man wanted in connection with the Paris attacks.
Foreign authorities had also tipped Geneva off about a suspected ISIL cell in the region. It is claimed America's CIA had provided a photo of four men, saying they could be on Swiss territory.