Russia fires warning shots at "provocative" Turkish fishing boat
Comments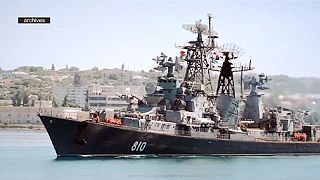 More tension between Moscow and Ankara after a Russian warship fired warning shots at a Turkish vessel apparently to avoid a collision in the Aegean.
According to the Russian Defence Ministry the destroyer Smetlivy was forced into the action due to what is called "provocation" by the Turkish fishing boat.
The incident took place off the Greek Island of Limnos. Moscow claims the fishing boat came too close and failed to respond to warnings from the destroyer which is in the region in support of Russia's campaign against rebels in Syria. Ankara says it will investigate but the captain of the Turkish boat said he was unaware that his vessel had been shot at.
It's the latest source tension between the two nations which are at odds over Syria and the Turkish shooting down of a Russian military jet last month. Russian President Vladimir Putin, who called the downing of the plane. "a stab in the back", has since imposed economic sanctions on Turkey as a retaliatory measure.