Seoul officials meet with North Korean counterparts to improve relations
Comments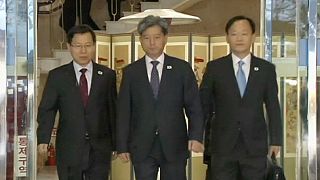 Senior officials from North and South Korea have met for talks, aimed at improving ties and resuming cooperation projects.
They joined together at the jointly-run Kaesong industrial zone, close to the border.
The meeting was the first forum following an agreement that ended an armed standoff involving an exchange of artillery fire.
The North was expected to seek the resumption of cross-border tours from the South to its Mount Kumgang resort, a once-lucrative source of cash for the impoverished state that was suspended in 2008.
Seoul in turn was expected to try to get Pyongyang to agree to hold reunions of war-separated families on a regular basis, a top humanitarian priority for the South, where more than 60,000 mostly elderly people are looking for relatives in the North.