Trump is condemned both at home and abroad for US Muslim ban call
Comments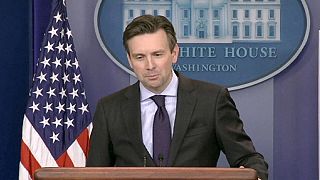 Republican presidential candidate Donald Trump has stirred up a storm with his call for a ban on Muslims entering the US.
His remarks have been condemned as fueling anti-Muslim hatred, and politicians of all hues have called them divisive..
The White House has even urged Republicans to disown the billionaire who is leading the race to represent them in the 2016 presidential election.
"They should say right now that they would not support Donald Trump for president. What he said is disqualifying. And any Republican who is too fearful of the Republican base to admit it, has no business serving as president either," said White House spokesman Josh Earnest.
The Pentagon has also warned against fueling ISIL's narrative of a US war with Islam, in a swipe at Donald Trump rhetoric which has triggered outrage around the world.
The Muslim community in the United States has reacted with shock and anger.The Executive Director of the Council on American and Islamic Relations, Nihad Awad said his remarks have echoes of Nazi Germany.
"Donald Trump sounds more like a leader of a lynch mob than a great nation like ours. He and others are playing into the hands of ISIS," he said using another of the acronyms for ISIL.
Donald Trump thinks all Muslims should apologise for terrorism. So on behalf of non-Muslim people I'd like to apologise for Donald Trump.

— Matt Haig (@matthaig1) December 9, 2015
Trump's remarks come as the US is coming to terms with a mass shooting believed carried out by a Muslim couple thought to have been radicalised by ISIL propaganda.
Although his proposal to halt Muslim immigration until Congress has acted has been criticised, it has also been cheered by many Trump supporters.
YES WE TRUSTTRUMP & WILLSUPPORTTRUMP 4 THEWIN 2016
THEPEOPLEWANT A LEADERWHO IS NOTAFRAID TO TELLTHETRUTHhttps://t.co/nM6r8YNKRZ

—

SUE

CHAINEZ

(@azblonde2015) December 9, 2015