Defiant Trump dismisses criticism of his Muslim statement
Comments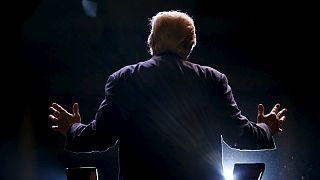 A defiant Donald Trump is dismissing heated criticism of his proposal to ban Muslims from entering the United States.
Trump has compared his plan to the detainment of members of the Japanese, German and Italian community during the Second World War.
Donald Trump defends Muslim plan by comparing it to FDR's policy; "he did the same thing" https://t.co/h8QgmO74q5pic.twitter.com/3×1aEGL2ab

—

CBS

News (@CBSNews) December 8, 2015
"Donald J. Trump is calling for a total and complete shutdown of Muslims entering the United States until our country's representatives can figure out what the hell is going on. We have no choice."
Paul Ryan on #DonaldTrump comments: "Not who we are as a party..this is not conservatism." https://t.co/SydJzFQBcbpic.twitter.com/TmCkuf3hUk

— The Situation Room (@CNNSitRoom) December 8, 2015
Speaker of the US lower house, Republican Paul Ryan, says this goes beyond a campaign issue:
"Normally, I do not comment on what's going on in the presidential election. I will take an exception today. This is not Conservatism. What was proposed yesterday is not what this party stands for and, more importantly, it is not what this country stands for."
"Not only are there many Muslims serving in our armed forces, dying for this country, there are Muslims serving right here in the House, working every day to uphold and to defend the Constitution."
Trump warned the recent attack in San Bernardino as well as those of Paris, could happen again if no action is taken.
His comments have been roundly condemned both at home and abroad.