Trump: reaction swings from anger to derision
Comments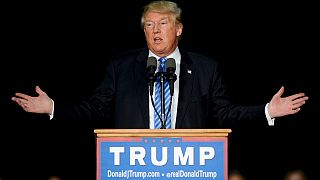 Donald Trump's call to ban Muslims from entering the United States has been met with every sentiment from shock to derision.
In a campaign statement, Trump called for "a total and complete shutdown of Muslims entering the United States until our country's representatives can figure out what is going on".
Statement on Preventing Muslim Immigration: https://t.co/HCWU16z6SRpic.twitter.com/d1dhaIs0S7

— Donald J. Trump (@realDonaldTrump) December 7, 2015
Mr Trump repeated his call later in the evening at a campaign rally in South Carolina.
Thank you for the support, South Carolina! #USSYorktown
#MakeAmericaGreatAgain#Trump2016pic.twitter.com/n0Ph35qsKV

— Donald J. Trump (@realDonaldTrump) December 8, 2015
What they are saying
The Muslim community in the United States has reacted with shock and anger to Donald Trump's comments.
Nihad, Awad, the Executive Director of advocacy group the Council on American and Islamic Relations (CAIR) says it has echoes of America's dark past.
"This is outrageous coming from someone who wants to assume the highest office in the land. It is reckless and simply un-American. Donald Trump sounds more like a leader of a lynch mob than a great nation like ours. He and others are playing into the hands of ISIS."
Political rivals, led by fellow presidential-hopeful Hillary Clinton, were vociferous.
This is reprehensible, prejudiced and divisive. RealDonaldTrump</a>, you don&#39;t get it. This makes us less safe. -H <a href="https://t.co/SjAqL0clHd">https://t.co/SjAqL0clHd</a></p>&mdash; Hillary Clinton (HillaryClinton) December 7, 2015
Presidential candidate Martin O'Malley: Donald Trump is a 'fascist demagogue' https://t.co/QdGbjEfVfS

— Business Insider (@businessinsider) December 7, 2015
Members of Trump's own Republican Party have also been quick to condemn his words.
Donald Trump is unhinged. His "policy" proposals are not serious.

— Jeb Bush (@JebBush) December 7, 2015
We said it 2 weeks ago & we'll say it again, realDonaldTrump</a>'s rhetoric is dangerous and bad for America. -Staff <a href="https://t.co/zY9yWh4Ajq">https://t.co/zY9yWh4Ajq</a></p>&mdash; John Kasich (JohnKasich) December 7, 2015
Former US Vice President Dick Cheney gave his opinion to the Washington Examiner#
Has anyone publicly backed Trump's call?
Yes, but not many people.
A few took to Twitter to voice their support.
Here is the truth whether you like it or not:realDonaldTrump</a> is only candidate to have the bravery to put out that statement on Muslims</p>&mdash; David Brody (TheBrodyFile) December 7, 2015
Controversial conservative commentator Ann Coulter also had something to say.
GO TRUMP, GO! https://t.co/wNHPSwm75q

— Ann Coulter (@AnnCoulter) December 7, 2015
#You ain't no Muslim, bruv
Trump's rhetoric comes in the wake of the most recent demonstration of tolerant public sentiment in the UK.
Three people were injured in a knife attack at a London Underground station at the weekend.
But it was the words shouted at the suspect by a bystander that captured the nation's attention.
Since then, "You ain't no Muslim, bruv" has even inspired its own hashtag.
"Bruv" is street slang closely related to the use of the word "bro'" in the US.
Keywords trending on social media in the US after Trump's statement included Hitler, shutdown and immigration.