US to send elite troops to Iraq to fight ISIL
Comments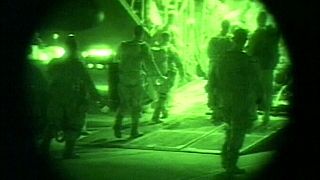 The US's Defence Secretary Ashton Carter has told a committee in Congress that a new force of special operations troops is to be deployed to Iraq to conduct raids against ISIL Islamists there and in neighbouring Syria.
Carter offered few details on the new "expeditionary" group, but said it would be larger than the roughly 50 U.S. special operations troops being sent to Syria to fight the ultra-hardline Sunni militants there.
"These special operators will over time be able to conduct raids, free hostages, gather intelligence, and capture ISIL leaders," he said.
US expands fight against ISIL by deploying special forces to Iraq https://t.co/1iTnEpcCvUpic.twitter.com/9dhWfArROv

—

AJE

News (@AJENews) December 1, 2015
"Baghdad says no"
The move however, has been rejected by the Iraqi government and raises questions over how closely Washington coordinated the plan with Baghdad.
Iraqi Prime Minister Haider al-Abadi said on Tuesday his country did not need foreign ground troops.
"The Iraqi government stresses that any military operation or the deployment of any foreign forces – special or not – in any place in Iraq cannot happen without its approval and coordination and full respect of Iraqi sovereignty," Abadi said in a statement.
Meanwhile, powerful Iraqi Shiite Muslim armed groups also rejected the idea and pledged to fight any deployment of U.S. forces to the country.
Deployment gets thumbs up in Washington
Back in Congress the announcement has received qualified backing from the Democrats who want a clear strategy and Republicans who want more troops on the ground.
Republican Congressman Trent Franks said: "First thing related to ISIS, they (the administration) have to try to arm the Kurds and we are going to have to have some American presence on the ground and do what is necessary to destroy this evil organization."
"I am confident we will win, but we need to make sure we have the right strategy and the right integration of all our resources to ensure that victory. And that means integrating resources here in America, it also means partnering with our allies in Europe and elsewhere to ensure a united front against these extremists who threaten our way of life across the globe," said Democrat Congressman Seth Moulton
There are already 3,500 US troops in Iraq and to send more will not be welcomed by many war-weary Americans.
Our correspondent in Washington Stefan Grobe said:
"Since the Paris attacks, President Obama has been under bipartisan pressure to take a much more aggressive stance against ISIL. Yet, as Secretary Carter said, the administration has only been willing to make "adaptations". His message to lawmakers: do not expect quick and easy victories."