Kerry appeals to NATO nations to join fight against ISIL
Comments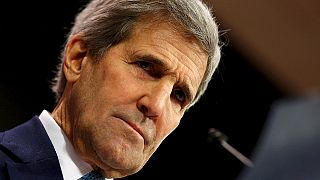 As the UK and Germany consider joining the military campaign against ISIL militants in Syria, the US has called on other NATO countries to provide help as well.
Secretary of State John Kerry spoke after attending a series of NATO meetings in Brussels.
"We have asked for the participation of special forces, of people to provide police training, people to provide ammunition, military assistance, people can provide "enablers" (helpers on the ground).
"There are various ways in which countries can contribute; they don't necessarily have to be troops, engaged in kinetic action (lethal force). There are medical facilities, there are other assets that can be deployed, there is intelligence gathering."
The call for more help comes as the US announces the deployment of special operations forces in Iraq.
Some reports say the number of troops involved will be between 100 and 150.
Last month the Pentagon said 50 commandos were also being sent to northern Syria.