Merkel's cabinet backs German role in fight against Islamic State militants
Comments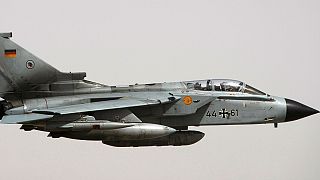 The German cabinet has agreed to join the military campaign against Islamic State militants in Syria.
The Bundestag lower house of parliament will debate the issue on Wednesday and a vote is expected later in the week. The motion is widely expected to pass given the broad majority held by Angela Merkel's "grand coalition."
If so, the move will mark a major step for Germany which has long resisted a direct role in the conflict.
But Germany's Defence Minister Ursula von der Leyen said the deployment is aimed at preventing further terrorist acts by ISIL.
"There won't be a future with Assad and there won't be a cooperation with troops under the command of Assad. He will have to answer for the fact that he has attacked his people with barrel bombs and toxic gas."
Germany will not join France, the United States and Russia in conducting air strikes in Syria but it wants to send Tornado reconnaissance jets, refueling aircraft and up to 1,200 soldiers to the region. It is also expected to send a frigate to protect a French aircraft carrier.