ISIL forced to fight on several fronts in Iraq
Comments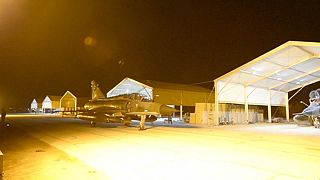 French mirage fighter jets have once again been in action against ISIL militant targets this time in Iraq. According to French military authorities the planes took off from a base in Jordon for an explosives assembly site in Al Qaim 400 km north of Baghdad..
Iraqi ground forces have also been engaged against ISIL . Iraq's ministry of defence released video said to be showing its troops repelling an attack launched by ISIL on the outskirts of Fallujah which lies some 65 kilometres west of the Iraqi capital.
Iraqi troops appear to be gaining in confidence aided by US-led coalition airstrikes. On Monday Iraq's military told civilians to leave the ISIL-held city of Ramadi, the capital of Anbar province ahead of an operation to retake the city.
Meanwhile more mass graves containing the remains of members of Iraq's Yazidi community have been discovered.
ISIL overran the city of Sinjar in northwest Iraq last year systematically killing or enslaving thousands. Surviving witnesses indicate there are over 30 mass graves in the area.
Iraqi officials have discovered three more Yazidi mass graves near Sinjar https://t.co/CtNtRIsvWWpic.twitter.com/GBZeTWfCTh

— Newsweek (@Newsweek) November 30, 2015