Putin: Turkey shot down jet to protect ISIL oil trade
Comments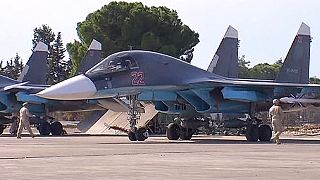 Russia says NATO must share responsibility with Turkey for the shooting down of one of its fighter jets last week because it gave Ankara political support for its actions.
The hardening of rhetoric comes as Russian bombers flew over Syria for the first time with air-to-air missiles for self-defence.
President Vladimir Putin later went further accusing Turkey of downing the jet to protect oil supplies from ISIL:
"We have every reason to believe that the decision on whether to shoot down our plane was dictated by the desire to ensure the safety of oil supply routes to Turkish territory, to the ports where they put it into oil tankers."
Turkish President Recep Tayyip Erdogan who along with other world leaders is attending the Climate conference in Paris was outraged by Putin's suggestion that oil from the Islamist militants was being routed through his country.
"You will get nowhere through slander. I'm clearly saying if this were proved to be correct I would resign. But I ask Mr. Putin: would you do the same and resign?" Turkey's president has refused to apologise for the incident as he claims the jet had violated Turkish airspace.
On Monday the body of the pilot who died last week, arrived in Moscow.
Oleg Peshkov was shot dead by rebels from Syria's ethnic Turkmen community while he was parachuting to the ground.