'Green Jihad': Faith leader's call to save the planet
Comments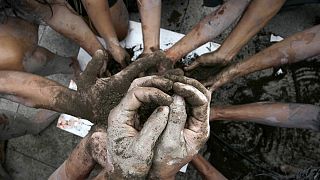 Their methods may be unconventional but their passion for the cause can't be denied.
The Green Jihad is to protect and save lives
On the sidelines of the COP21 talks, the Fast For The Climate movement has brought activists to Paris from around the world.
All have gone without food for 24 hours to show "our unity and our solidarity not just with climate vulnerable peoples, but all people at risk of violence and horror".
Fast For The Climate describes itself as a 'global movement with participation of youth groups, environmental groups and faith-based groups, who all want urgent action on climate change by governments this year".
It invited people across the world to join in the fast, saying: "We fast for the climate together as one human family".
One faith leader who has travelled to Paris has declared a 'Green Jihad' against climate change, incorporating fasting and educational events to raise awareness of what is at stake.
"The Green Jihad is to protect and save lives," said Imam Ibrahim Saidy from the Oslo area of Norway.
"It is to make people aware of the need to stand for one another. It is to make people aware of the dangers of climate change and to fight for climate justice."
"It is not a Muslim who goes to bed with a full belly while his neighbour goes hungry." - Imam Ibrahim Saidy pic.twitter.com/o3vIPwJL26

— Fast For The Climate (@FastForClimate) 1 Décembre 2015
Another faith leader who made the journey to Paris is the Most Rev. Thabo Makgoba, the Anglican Archbishop of Cape Town.
"We belong, because at stake is not only a technocratic agreement but… peace is at stake here," he said.
Unity, solidarity and perhaps divine intervention can do nothing to harm the Paris climate conference's chances of success.
We need urgent and drastic emission reductions - for our planet and its people. https://t.co/OBqe1g7Bllpic.twitter.com/zSVTc0fP17

— Fast For The Climate (@FastForClimate) 28 Novembre 2015