Monarch butterflies make annual migration to Mexico
Comments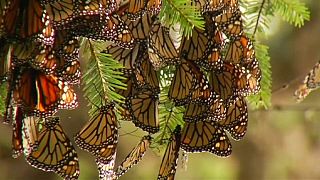 Thousands of orange and black Monarch butterflies have started arriving in their winter home of central Mexico.
Millions of the insects embark on an arduous journey from as far north as Canada as part of an annual migration.
But their numbers have plummeted in recent years. Experts say that while an estimated one billion migrated to Mexico in 1996, that number stood at about 35 million last year.
Threats to the butterflies include habitat loss due to human activities, pesticides and climate change, according to experts.
Scientists at the Ecosystems Research Centre (CIECO) at the National Autonomous University of Mexico (UNAM) in Morelia, have in recent years developed an organic fertilizer that is being spread throughout Mexico's forests to protest the Monarchs.
The National Commission for Protected Natural Areas (CONANP) has also stepped up monitoring across woodland areas near the US border.